Race day is Saturday, May 22nd @ Huizenga Park. Please arrive between 5:30am – 7:00am. Runners will start to be released at 7:30am and all participants must be on The Color Run 5k route no later than 8:00am.
If you have already received your participant kit in the mail – you are checked in and ready to go.
If you have not received your kit, you can attend the Check-in Party to pick up your participant kit for free. Please use the 315 S Andrews Ave Garage located at 315S S Andrews Ave, Fort Lauderdale, FL 33301 *** There is no parking on SE 1st Ave during the check-in party.
Or…
You can pick up your participant kit on Race Day morning for $5 per packet from 5:30am – 7:00am. ****All runners must start the 5k route no later than 8:00am.  Please allow plenty of time for parking and walking to the start line. If you are checking in on event day we encourage you to arrive no later than 6:45am, bring exact change if paying with cash, and plan on waiting in a line for up to 1 hour.
We highly encourage you to check in on Friday, May 21st at Huizenga Park from 11:00am – 7:00pm. Please remember the cost to pick up your packet on event day (Saturday) is $5 PER packet you are picking up. Cash or Card accepted.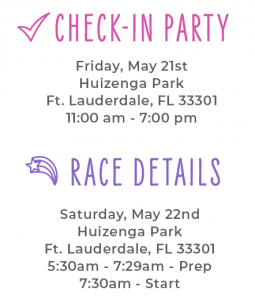 Coming Soon