Race day is Saturday, May 1st @ The Osceola Heritage Park. Please arrive between 6:00am – 7:59am as waves of runners will begin to start at 8:00am.
If you have already received your participant kit in the mail – you are checked-in and ready to go.
If you have not received your kit, you can attend the Check-in Party to pick up your participant kit for free.
Or…
Pick your participant kit up when you arrive on race morning. Remember, it's a $5/per kit fee for this option. Cash or Card accepted.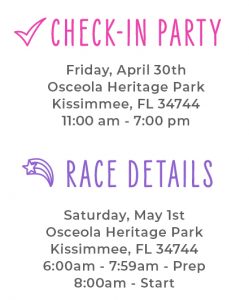 We can't wait to be with you this weekend!
Coming Soon