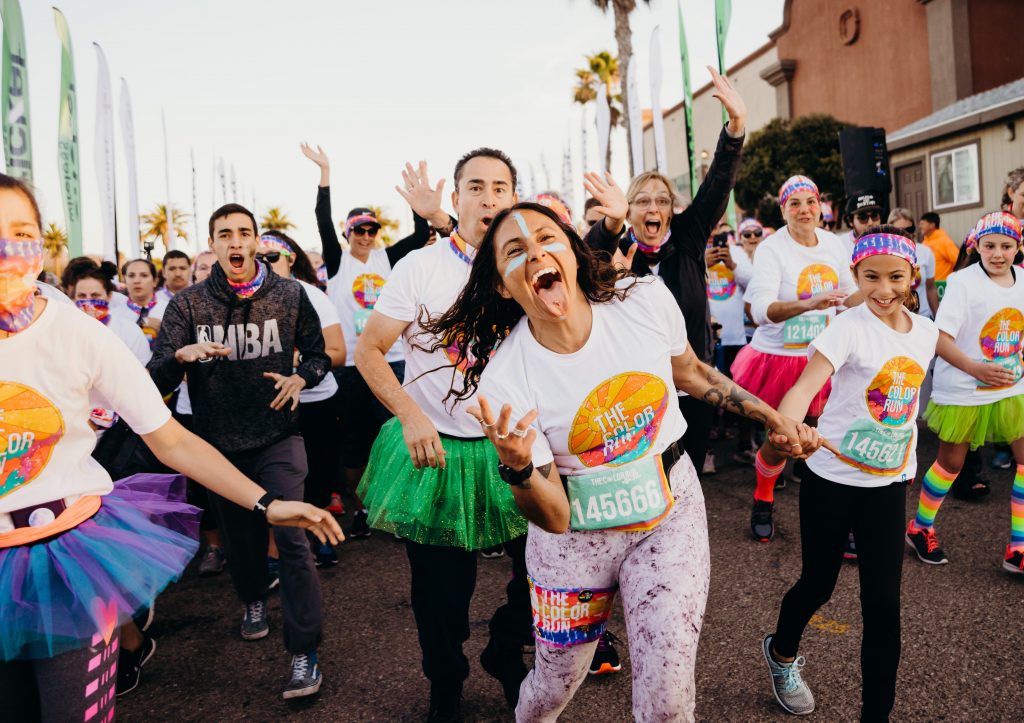 Event day is Saturday, July 9th @ Minnesota State Fair Grounds. Runners will start to be released at 8:00 am and all participants must be on The Color Run 5k route no later than 8:30 am.
If you have already received your participant kit in the mail – you are checked in and ready to go.
If you have not received your kit, you should attend the Check-in Party to pick up your participant kit for free. The Check-in Party will be on Friday, July 8th from 11:00 am – 7:00 pm at Minnesota State Fair Grounds.
Or…
For checking in on Race Day (Saturday), when you arrive follow the signs to "Packet Pickup"/"Start Line" and check-in at the PINK check-in tents. You can pick up your participant kit on Race Day morning for $5 per packet from 6:00 am – 8:00 am. Please allow plenty of time for parking and walking to the start line. If you are checking in on event day we encourage you to show up early. Remember to bring exact change if paying with cash.
Please remember the cost to pick up your packet on event day (Saturday) is $5 PER packet you are picking up. Cash or Card accepted.


Packet Pickup Parking:
Enter the fair grounds from Snelling Ave and Dan Patch Ave.
Go down Dan Patch Ave towards the GrandStand and turn right onto Underwood Street.
Stay on Underwood Street until you reach Randall Ave and turn left on Randall Ave.
Follow Randall Ave all the way until you see The Color Run parking on the left.
The parking lot is S 108.
Parking is FREE.
Event Day Parking:
Enter the Fairgrounds from Como Ave and University of Minnesota Transitway.
Take University of Minnesota Transitway until you reach Commonwealth Ave / Dan Patch Ave and turn right.
Take your first left onto Randall Avenue and you will see The Color Run parking on your right.
Once you park, walk towards the grandstand and follow signs to the startline, packet pickup, and checkin party.
Additional Parking:
Overflow parking is on the south side of Como Avenue. The entrance is at Como Avenue and Packard Street.
If you park in the overflow parking lot park and use the crosswalk to cross Como Avenue.
Enter the fairgrounds and walk down Clough Street.
Take a left on Judson Ave.
Take a right on Liggett Street.
Follow Liffett straight until you hit the grandstand and walk up the staircase of the grandstand. Follow signs to the start line, check in party, or packet pickup.
We highly recommend you arrive early for this event. With thousands of other participants coming, you'll want to avoid the rush! We encourage you to carpool and arrive early to hang out at our Get Up & Glow party.